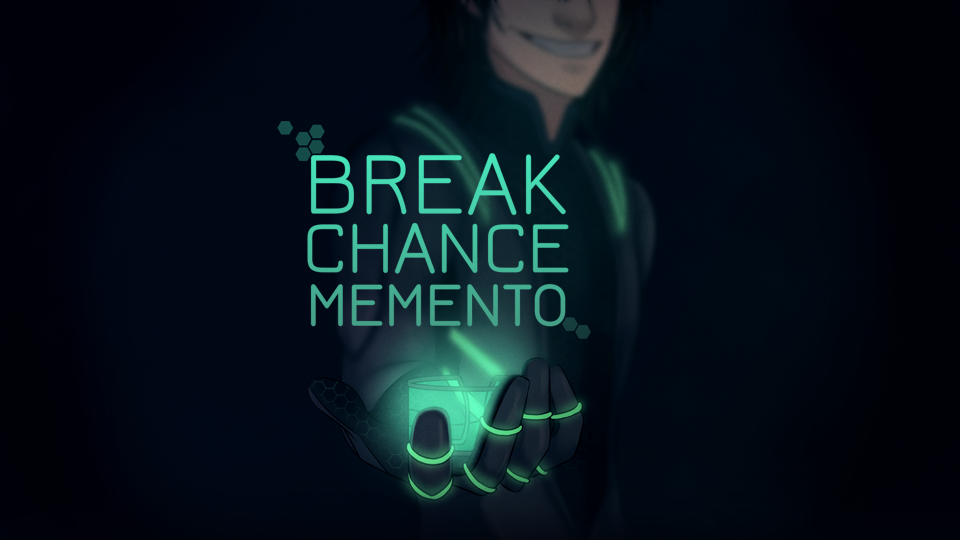 Break Chance Memento
A downloadable game for Windows, macOS, and Linux
Break Chance Memento (BCM) is the latest visual novel by Cyanide Tea. BCM is primarily a story about family bonds across time and involves time travel, tracking down a serial killer, and potential gay romance. It is plot-heavy rather than romance-heavy and can be classified as slice of life, boys' love, and science fiction. We give the game a 15+ rating due to violent/horrific imagery and writing.
BCM was released on December 16, 2015 for Windows, Mac, and Linux. The game retails for $19.99. The demo covers the first 2 chapters out of 5. Note: every purchase of the game through itch.io comes with a Steam key to obtain a copy of the game on Steam.
Version 1.3 was uploaded on march 30, 2016. This update addresses a few minor cosmetic bugs, such as the sprites not transitioning correctly when text speed was set to max. The demo was also updated to version 1.2, which makes the same fixes.
Version 1.2 was uploaded on February 9, 2016. This includes some typo fixes and a fix to make the neutral ending easier to obtain. Version 1.1 of the demo was also uploaded, which contains some cosmetic and typo fixes.
Version 1.1 was uploaded on January 7, 2016. This includes a few minor cosmetic fixes to the gallery and sprites, a few typo fixes, and a fix that allows for conversations with both of Yukinari's brothers to pass a route check (due to a bug, only talking to one specific brother worked previously) in chapter 4.
Also, a comprehensive guide is now available to everyone who purchases the game. If you'd like to leave a tip as thanks for this guide, you may do so here on Gumroad.
---
STORY
Four years ago, Shuuki's world was turned upside-down when his twin sister, Fuyuka, died in an accident at just 12 years of age. His parents blamed her death on the negligence of their eldest son, Natsume. The Amamiya family was never the same.
One fateful morning, Shuuki stumbles across the gruesome sight of his brother Masaharu's corpse. When all hope is lost and Shuuki must come to terms with the fact that his brother has been murdered, the mysterious Kyousuke appears before him with a proposition:
"Do you want to bring your brother back? To fix your family's broken relationship? You can…if you learn to travel through time."
Before he knows it, Shuuki is caught in a plot far more sinister than he could have ever imagined. He learns that the key to traveling through time and stopping innocents from being killed lies in mementos: items that are a link between the past, future, and present.

---
Trigger & Content Warnings: verbal and physical abuse, implied sex, slurs related to gender/sexual identity, blood/gore, murder, violence, student/teacher romantic relationship, glitch imagery, some flashing lights/white screens, and suicidal speech/actions.
---
All writing and programming was done by Lore, though the main characters were originally conceived by:
All art and UI was done by Auro-Cyanide. This includes sprites, CGs, BGs, UI, and the logo design, among other things. Our original UI was designed by Lazcht of Stellar-Ø, with the map lineart done by Dito Satrio. Auro later completely revamped and redesigned the UI while reusing some of the core themes. Shadow was our trusty editor.
Beta testers: Amy Blackley, Chad Park, Danielle Dee, JaelDeHeist, Kristi, Mary Borsellino, Nekochan, NooseyGoosey, Reveris, Samantha P., SheerGlade, and Teuthowenia.
Other credits:
Freesound: Specifically from users Analog Bleep Ten, suonho, Argitoth, and fogma
月に憑かれたピエロ, Bastet Tail: SFX and music credits
Paragon Apartments, Palindrome6996, TANAKA Juuyoh (田中十洋), Wikimedia (1, 2, 3), Samu-kun: photography credits
Fonts used in Break Chance Memento are Open Sans and Jura.
BCM uses the Ren'Py visual novel engine. For more information, please see the official Break Chance Memento website.
Purchase
In order to download this game you must purchase it at or above the minimum price of $14.99 USD. Your purchase comes with a Steam key. You will get access to the following files:
Break Chance Memento official guide (PDF file)
344 kB
Break Chance Memento v1.3 (Windows)
553 MB
Break Chance Memento v1.3 (Mac)
552 MB
Break Chance Memento v1.3 (Linux)
555 MB
Download demo